ONLY Smart Hotel is a Guest Room Management System (GRMS).
It balances the comfort of the guest with energy efficiency to ensure business and environmental sustainability.
From basic automation to BMS/PMS integration, ONLY Smart Hotel professionals are part of the solution. Having an expert team of integrators with specialised training, ONLY Smart Hotel is prepared to provide a prompt technical support and maintenance.
Each hotel holds a unique comfort profile and with ONLY Smart Hotel it is possible to configure the use of lighting and air conditioning in a simpler and more effective way for the guest. It is also possible to manage efficiently the guest room energy consumption and to drive the guest to an optimal room experience, generating greater guest satisfaction.
Welcome to the next generation of smart hotels.
Doing the best for your guest arrival
Guest Service/ PMS integration
The Guest Room Management System (GRMS) provides innovative and efficient control of lighting, heating/cooling and hotel guest services through intuitive touch panel interfaces. PMS activates immediately the comfort parameters according to the guest profile.
Switch on the air conditioning before the guest arrives to the room;
Check-in, Check-out and Welcome Scenarios;
Turn on entrance light when the guest opens the door;
Automation selection of default setting when the guest inserts key card;
Welcome mode can be set up by BMS;
HIFI Quality Sound;
Bluetooth audio receiver;
Integrated control of all room systems on wall keypads.
There's nothing
like the first
impression
ONLY Smart Hotel engineered
to boost efficiency.
Efficient Energy Management
ONLY Smart Hotel is a powerful energy management tool. Through permanent monitoring of occupancy status and use of rooms, heating/cooling systems (climatization) and circuits are activated just when necessary.
Central or local control of lighting;
Possibility to control the dimming of the Hall ways lights depending on motion detectors;
Temperature control;
Monitoring of auxiliary contacts in floor power distribution switchboards;
Scenarios for the conference rooms;
Easy re-configuration of the lighting control on areas with variable geometry.
A unique stay experience
under control.
Real time reports at your service.
The BMS and PMS (MODBUS) integration allows real-time operation taking into account Check In / Check Out information and also the presence or absence of guest, room service, room cleaning and maintenance activities.
Technical information at BMS
Key card inserted;
Room temperature;
Temperature set point selected;
Status of the air conditioning;
Duty cycle of each value (heat and cool);
Window/Door contact status;
Guest presence in the room;
Temperature sensor failure;
Actuators status;
Room Service;
Room keeping. Do not disturb status.
Awesome rooms
that lift your business
Hotel Room

Installation Functions Custom solutions
that make sense
Hotel Room

Installation Overview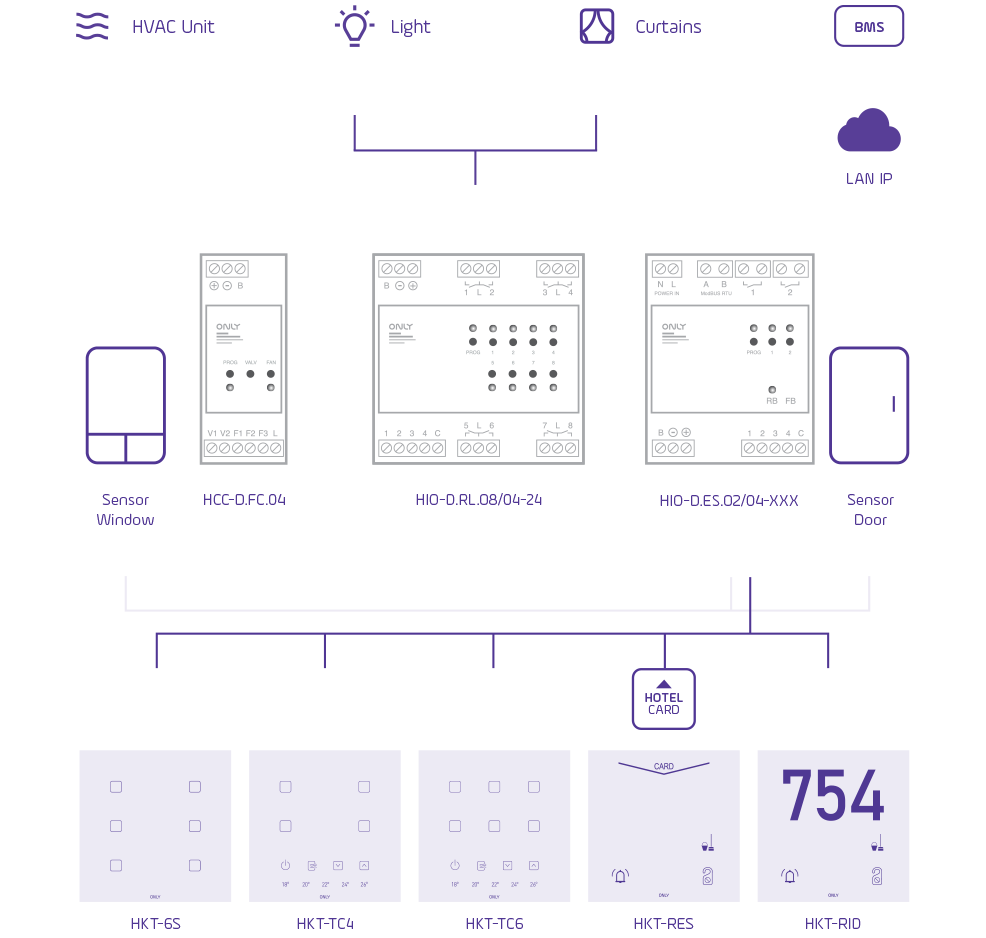 Tailor-made

Wall Panels
Integrated control
on every wall keypad
A decade of experience focused on a supreme product.
The colours, the symbols and the textures result in an effective yet simple interface with the user, strengthening the hotel brand.
Each wall keypad uses a simple and unambiguous symbology that gives the guest an intuitive experience to control all in-room functionalities
(light, climate, audio, window shutters).
With customised colours and finishings, ONLY Smart Hotel takes the keypads design very seriously.
For the perfect fit, the hotel logo can also be engraved on the wall keypads.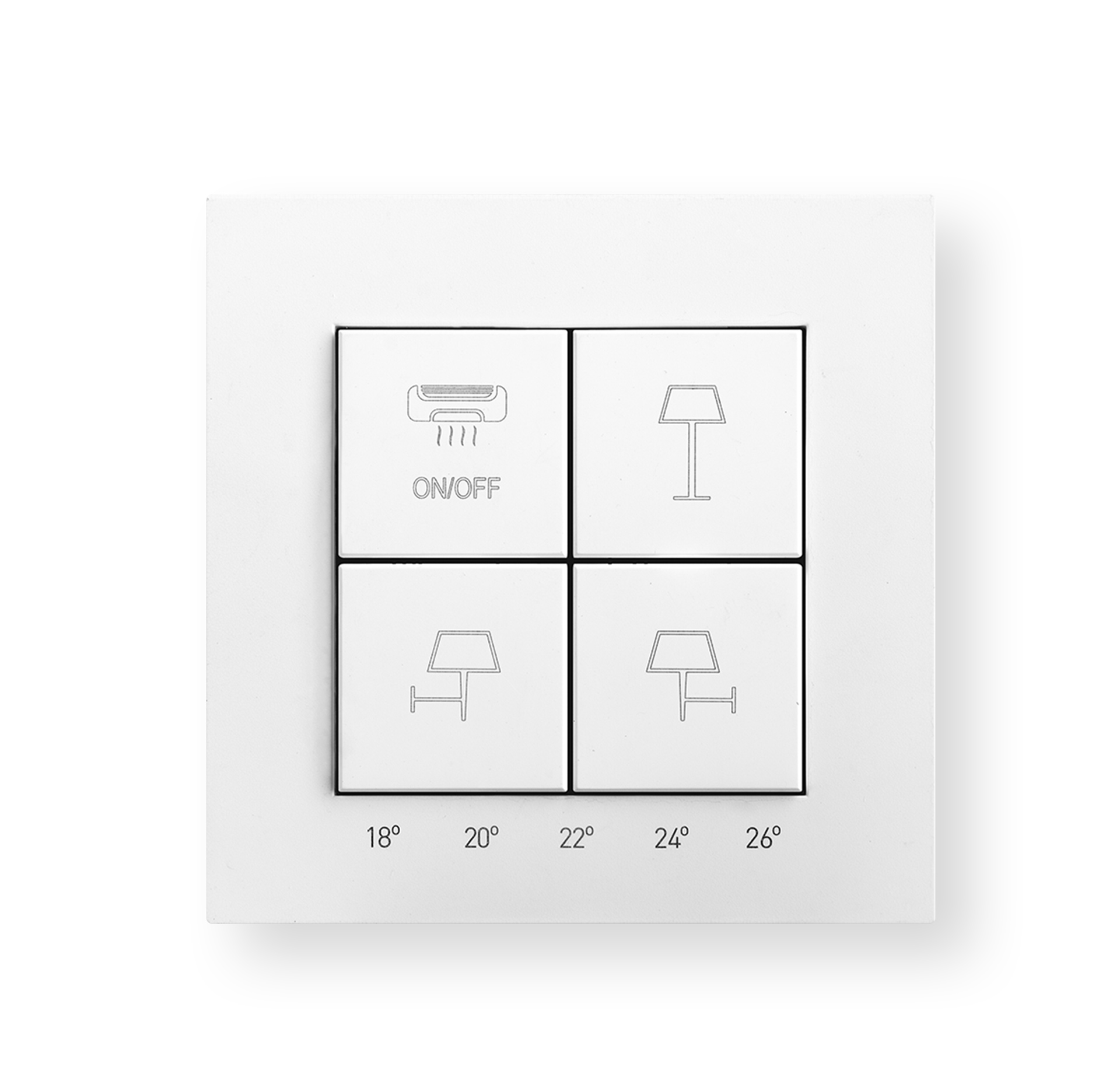 Only Click
Timeless click
4 press buttons.
Custom icons, colours including metal coating.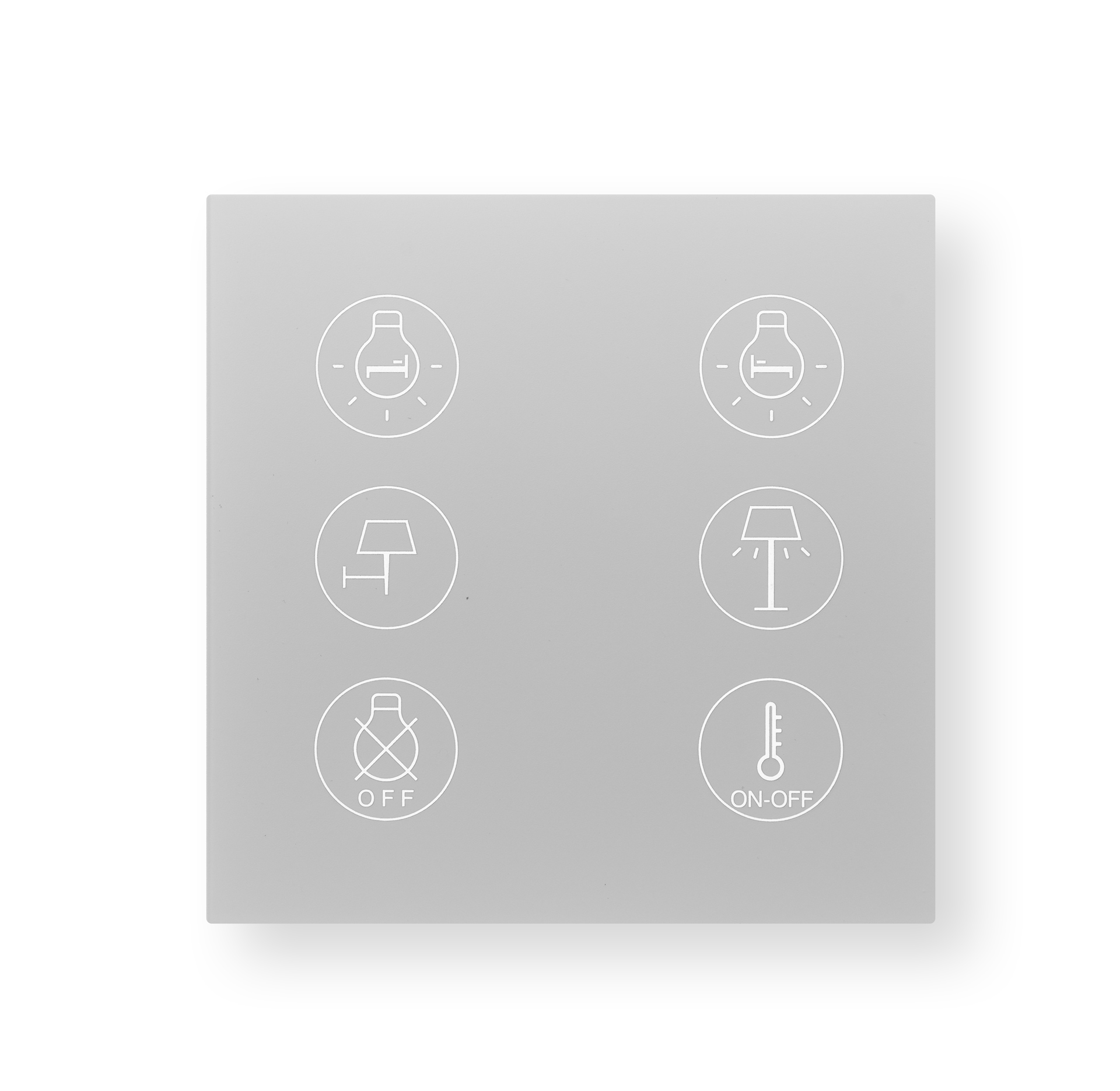 Only Touch & Only Glass
Smooth Control
1 to 9 soft touch buttons.
Custom icons, colours.