Policy Cookies
ENANCER ELETRÓNICA, Lda., registered at the Braga Company Registry Office under corporate identification number 508307341, headquartered at Rua Max Grundig, 9, with a share capital of EUR 164,500.00, is the owner of this website.
Purpose of our website
ENANCER's website aims to inform visitors about its business, market positioning, products and services. It also shares interesting and relevant information about the state of the art in the segment in which it operates.
Visitors to this website can subscribe to the newsletter for access to more detailed information directed at their interests or use the direct communication channels with the company provided there, under the terms and for the reasons specified therein.
Purpose of Cookies Policy
ENANCER's Cookies Policy reasserts ENANCER's commitment to legal compliance with regard to the use of cookies and the related processing of personal data, (recommending that you also read our  Privacy Policy), by providing the following information for visitors to this website.
This website uses cookies not only for communication and services expressly requested by visitors but also for the purpose of optimising their browsing experience.
Information
What is a cookie?
A cookie is a text file that contains and stores small amounts of information and is activated and downloaded on a visitor's computer or other device.
Find a definition and technical description of cookies in standard RFC6265 at http://tools.ietf.or/html/rfc6265
What is the legal basis for the use of cookies?
Consent
In accordance with EU and Portuguese law, the use of cookies must be previously agreed to by visitors.
For consent to be valid, clear and specific information about the existence, type, purposes and duration of cookies must be provided in advance.
Exemption from the obligation to request consent
However, consent is not required if the cookie is for the sole purpose of sending a communication via an electronic communications network or if the cookie is strictly necessary for the provision of an expressly requested service from the company.
What cookies do we and how do we use them?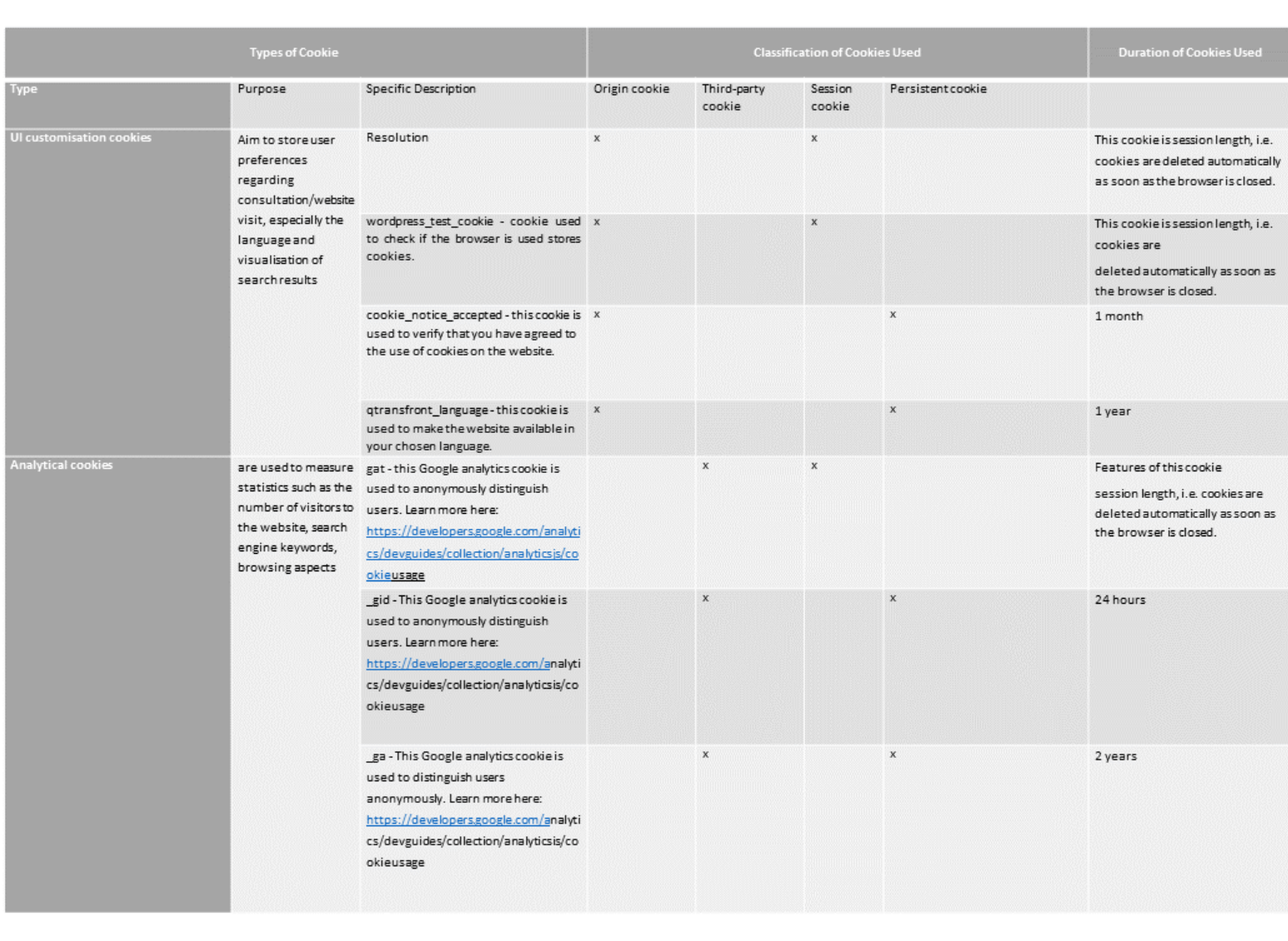 How can you accepted or reject cookies that require consent?
When you access this website, a notice or warning appears on the home page informing you that it uses cookies and that you need to give prior consent. It refers you to the information detailed here and then requests your consent.
You are free to accept or reject cookies by clicking on the option "accept" or "don't accept".
However, please note that disabling cookies may partially or totally affect your browsing experience on the website.
How can you change your mind regarding cookies that require consent?
All browsers allow users to accept, reject or delete cookies by selecting the appropriate settings in the browser. Users can configure cookies in the browser's "options" or "preferences" menu. To learn more about cookies, including how to see what cookies have been created and how to manage and delete them, go to www.allaboutcookies.org which includes information on how to manage user settings for different browsers.
Not sure which web browser you use? To find out, open your web browser and select "Help" at the top of the browser window. Then select "About". A pop-up window will appear with information about your browser.
How can you exercise your rights?
As subjects of personal data that are processed by ENANCER, visitors to this website may at any time, free of charge and as set out by law, in particular Articles 15 to 22 of the GDPR (General Data Protection Regulation – Regulation (EU) 2016/679), exercise the right to access, rectify and delete their personal data, the right to restrict processing, the right to data portability, the right to object to processing and the right not to be subject to automated individual decision-making.
Whenever the legal basis for processing personal data is consent, data subjects are also entitled to withdraw consent at any time, though this will not compromise the legality of any processing already performed.
Any data subjects wishing to exercise any of the aforementioned rights in relation to ENANCER, as the data controller, shall address a written request on one of the following channels detailing their wishes to ENANCER:
E-mail address – gabineteprotecaodedados@only-smartbuildings.com
Postal address – Rua Max Grundig, 9, 4705-820 Braga
Data subjects who consider that their data have been breached also have the right to submit a complaint to a supervisory authority. In Portugal, this authority is Comissão Nacional de Proteção de Dados [National Data Protection Commission]. They may also use other means, such legal action.
Cookie Policy Review
This policy will be reviewed whenever legal or organisational developments so require. Visitors on this website will be informed whenever this occurs.
Privacy Policy
See also ENANCER's Privacy Policy.
Thank you for your visit and your interest in ENANCER products and services!